Budding Beauties
February 22, 2005
We're quite aware of the fact that rhinestones were like sooo 5 minutes ago...
...5 years ago.
But there's something to be said for an old trend with a new twist.
Case in point: What self-respecting commuter doesn't travel with Metrocard in one hand and iPod in the other?
Here's your chance to add an earful of sugar to the morning mix with Shuga Buds, the adorable studded earphones made from Swarovski crystals. Available in blue, pink, sage green, gold & iridescent, Shuga Buds also come complete with wind-up storage case and gift box.
Compatible with any personal audio device from MP3 players to Walkmen, Shuga Buds lend a bit of sparkle to what would otherwise promise to be a rather dull commute.
Now that's music to our ears.
Shuga Buds are available for order via email at orders@shugabuds.com or by phone by calling 800.679.4323. For more information, please visit Shugabuds.com.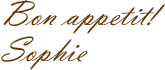 P.S. Isn't it time you stepped up your correspondence skills? Introducing PUMPS, an empowering new line of shoe-themed greeting cards packaged in...you guessed it, a mini shoebox! A great way to get your Manolo fix without spending this month's rent money, they're the perfect little pick-me-up, or is that pump-me-up? From now thru March 1st, receive 10% off all PUMPS purchases when you enter SCOOP upon checkout.



To change your email preferences or unsubscribe, click here.
all content copyright scoop du jour 2005