SweeTees
February 10, 2005
Who doesn't want their 15 minutes of fame?
Heck, we're shooting for 45.
We recently came across a foolproof way to get ours. It happens to involve a camera, the right lighting and some tight clothing.
No, we're not pulling a Paris on you. We said fame, not infamy.
For just $50, Unsweetened will render a drawing from a digital photo of your best friend, sister or oh, we don't know, YOU, in their signature style and transfer it onto a t-shirt for all the world to see (or at the very least your neighbors).
Borne out of a birthday gift Michelle Wahler created for her roommate, the former People magazine designer knew she was on to something when perfect strangers were stopping her to clamor for the ultimate in personalized gear.
Why UNsweetened, you ask?
C'mon now, no one ever said fame was pretty.
To order an Unsweetened custom tee, contact Michelle at custom_orders@unsweetened-nyc.com. For information about other Unsweetened products, please visit Unsweetened-nyc.com.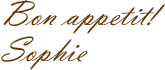 P.S. AND THE WINNERS ARE...Hundreds of you entered but only 12 could win a Miss A Kit, the tiny 16-feature emergency kit for the modern woman (valued at $20). Congrats to Mica Medoff (NC), Farrah Sawyer (IL), Jennifer Lorenz (IL), Amy Pinkerton (TX), Kathleen Martinson (MN), Stephanie Sharer (VA), Caroline Musin (MA), Melissa Lipshutz (IN), Brooke DiNatale (NY), Marie Patino (CA), Kelley Hundahl (D.C.) & Bethany Elseroad (GA)! Thank you to everyone who participated in this week's drawing. Check back each week for more chances to win fabulous products compliments of Scoop du Jour!



To change your email preferences or unsubscribe, click here.
all content copyright scoop du jour 2005