The Pooper Scoop
February 8, 2005
Us bipeds can easily refer to our trusty Zagats whenever we're up for a night on the town, but what about our quadruped pals?
That keen sense of smell will only get them so far.
City Dog, a unique series of guidebooks for pet owners in 8 major cities across the U.S. including Chicago, Boston & L.A., profiles an extensive range of dog-related haunts from daycare centers to alternative therapists.
Acupupturists, perhaps?
Dedicated to helping urbanites find the resources they need to raise happy, healthy puppies, City Dog not only maps out local businesses in each city, they also offer helpful reviews and valuable insider information.
In other words, they've gone ahead and marked Rover's territory so that he won't have to (but probably will anyway).
City Dog guidebooks are available at Citydog.net.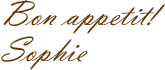 P.S. Catastrophe #14: A hot Valentine's Day date and no corkscrew in sight. You can never be too prepared...Just ask Miss A, the tiny 16-feature emergency kit for the modern woman (valued at $20). 12 lucky winners will have the chance to do just that. Simply send us an email with your name and mailing address and we'll announce the winners in this Thursday's Scoop!



To change your email preferences or unsubscribe, click here.
all content copyright scoop du jour 2005