Washed Up
February 3, 2005
With all that lingerie you'll be donning on Valentine's Day, you're gonna need something to wash it with come February 15th.
You dirty birds, you...
Luckily we have just the thing. Forever New Fabric Care Wash, a cult favorite among garmentos in the know, promises not only to preserve the quality of your new clothing, it also sets out (and delivers, we might add) to restore whiteness and color to your old duds too.
Versatile enough to care for a range of fabrics from silk to cotton to linen, we assure you that your V-day garb is in good hands.
We can't vouch for pleather though.
That's a whole other website altogether.
Forever New Fabric Care Wash is available at Barenecessities.com. For information about other Forever New products, please visit Forevernew.com.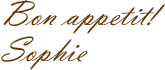 P.S. AND THE WINNERS ARE...Hundreds of you entered but only 8 could win a bikini art kit & bottle of Shave Me! shaving cream (totaling $25) from Just Kittyng. Congrats to Tammy Abramzon (NY), Lindsey Kepnes (MA), Lisa Rodriguez (NY), Robyn Schmier (MI), Shea Alexander (OK), Gayle Baden (FL), Marla Price (CA) & Jenny Kiely (KS)! Thank you to everyone who participated in this week's drawing. Check back each week for more chances to win fabulous products compliments of Scoop du Jour!



To change your email preferences or unsubscribe, click here.
all content copyright scoop du jour 2005