I Dream of Jean-ie
February 1, 2005
Everybody knows that the older the denim, the more coveted (read: expensive) it is.
But for those of you who aren't in the habit of scouring the racks at The Salvation Army, we've found just the thing to mimic that vintage look without all that vintage dirt.
James Jeans has recently announced the launch of their new Premium label which features an updated wash that's actually hand painted on by a team of "specialists" as well as upgrades galore, from the hardware to the threading.
Already adored by former friends Courteney and Jen and slated as the sole denim sponsor at this year's Sundance Festival, these jeans are definitely taking their turn on the celebrity circuit.
No ifs, ands or butts about it...
The James Jeans Premium label is currently available at Barneys New York. It will launch nationwide in April.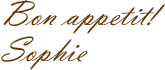 P.S. Everyone's waxing poetic about the Just Kittyng bikini art kit. Enter to win yours just in time for Valentine's Day! 8 lucky winners will also receive a bottle of Shave Me! shaving cream (total combined value $25). Simply send us an email with your name and mailing address and we'll announce the winners in this Thursday's Scoop!



To change your email preferences or unsubscribe, click here.
all content copyright scoop du jour 2005