Devil's Food
January 27, 2005
Cravings. Can't live with 'em, can't ignore 'em.
We admit, sometimes ours get a tad out of control.
For instance, when Aunt Flow comes to town we're pretty much eating for two. Okay, four.
Thanks to the PMS Kookie Kompany we're no longer at a loss for what to serve our honored guest. With aptly named goodies like Cranky Caramel Popcorn Crisp, Bitchy Brownies & Pouty Peanut Butter Blast just a mouse-click away, we'll have to find something else to complain about.
Because you know what they say...
You are what you eat.
The PMS Kookie Kompany line is available at pmskookiekompany.com.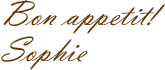 P.S. AND THE WINNERS ARE...We received hundreds of new subscribers from last week's promotion but only 10 people could win a jump starters kit (worth $48) from Philosophy. Congrats to Penny Nelson, Jennifer Parks, Maria Guzman, Sarah Turco, Jodi Elliston, Jen Jones, Caroline Krajewski, Ginny Digges, Kristin Locsi & Joan Hayman! The Grand Prize winner of the power showers Shower Gel of the Month Club (worth $240) is JoAnne Dunning. Thank you to everyone who passed the Scoop along to their friends. We LOVE word of mouth!



To change your email preferences or unsubscribe, click here.
all content copyright scoop du jour 2005