Affirmative Action
January 25, 2005
It tends to take a hearty dose of motivation to get our bums on a treadmill in the summertime, so you can just imagine what it's like once the snow (and the temperature) starts to fall.
Read: fuhgeddaboudit.
However, seeing as our fashion slave status is ever on the rise, it should come as no surprise that the right outfit is capable of providing the perfect amount of inspiration, rain or shine.
Armed with Spiritual Fitness Wear's line of tees, tanks and pants emblazoned with no-nonsense phrases like Be Fit, Be Strong, Be a Girl and Not Famous- Let it Go, we barely notice when we start to feel the burn.
Created by a former female wrestling champ, this celebrity favorite truly is a label of love. Fans of the line include Mandy Moore, Kelly Preston and that maven of spiritual fitness herself, Madonna.
Now really, who couldn't use a little positive affirmation every now and again?
Say it with us, "I think I can, I think I can..."
Of course we're probably talking about resisting that third Krispy Kreme, but hey, we all need to start somewhere.
Spiritual Fitness Wear is available online at Spiritualfitnesswear.com & Tinasapparel.com.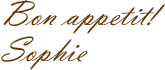 P.S. Share the Scoop & enter to win 1 of 10 jump starter kits (valued at $48) from Philosophy. 1 Grand Prize winner will win a coveted membership to the power showers Shower Gel of the Month Club (valued at $240)! To enter, simply forward this email by clicking on the "Share Your Spoon With a Friend" icon at the top of the page. You will receive one contest entry for each friend who enters YOUR name during sign-up. The more friends you send, the better your chances to win. 11 winners will be drawn at random and announced in this Thursday's Scoop. Your friends MUST give us your name in order for your entry to count. If you've already passed along the Scoop to your friends but aren't sure if they mentioned your name, please remind them to email us before Thursday. Only confirmed subscriptions will be valid.



To change your email preferences or unsubscribe, click here.
all content copyright scoop du jour 2005