Gone (Ice) Fishin'
December 23, 2004
We're off to the North Pole where we hear the trends are aplenty over at Santa's Workshop. Can't wait to tell you all about 'em when we return on Tuesday, January 4th, 2005.
Happy Holidays from all of us at Scoop du Jour. We hope you've enjoyed getting The Scoop in '04 as much as we've loved dishing it out!
Scoop ya next year...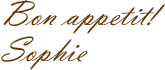 To change your email preferences or unsubscribe, click here.
all content copyright scoop du jour 2005