Two Faced
December 9, 2004
No one ever said love was easy.
From calculating the cutoff for accepting a Saturday night date to figuring out what to wear on Casual Bowling Night, there sure is a lot to think about.
Luckily for us, DEESH has taken the guesswork out of the hardest part of all... declaring our true feelings once we've finally stopped playing by The Rules.
As if.
While some of us are perfectly content wearing our heart on our sleeve, DEESH has other plans for those who are just a tiny bit bolder.
Their new monogrammed Boy Meets Girl™ hoodies are a brilliant way to mark (or should we say embroider) one's territory in style.
Available in blue on blue, black on gray or pink on black, they also make great gifts for best friends, bachelorettes and proud soccer moms.
Love comes in all forms. And yes, they all have rules.
DEESH is offering Scoop du Jour readers 15% off all merchandise when you enter SCOOP in the "comments" section upon checkout. Please be assured that while the discount will not appear on the checkout page it will be applied to your final order.
Boy Meets Girl™ monogrammed hoodies are available at DeeshDesigns.com.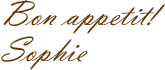 P.S. AND THE WINNERS ARE...
Hundreds of you entered but only 3 could win a $50 gift certificate from Weezies.com. Congrats to Haley Nemann (CO), Nicole Berkowitz (NY) & Summer Laurie (CA)! Thank you to everyone who participated in this week's drawing. Check back each week for more chances to win fabulous products compliments of Scoop du Jour!



To change your email preferences or unsubscribe, click here.
all content copyright scoop du jour 2005