This Little Piggy...
December 2, 2004
Another Thanksgiving lost, another five pounds gained.
What we do in the name of stuffing.
With the promise of holiday parties just around the bend and countless bottles of champagne just begging to be drunk, we can hardly be held accountable for our ever-expanding Santaesque waistline.
While mashed potatoes and gravy will always be mashed potatoes and gravy, at least one food group has the courtesy to meet us halfway.
Introducing No Pudge fat-free brownies, a viable alternative to the smorgasbord of cookies, cakes & pies that have attached themselves to our holiday memories (and our thighs).
Available in original chocolate, cappuccino, raspberry and mint, all it takes is a few turns of the wrist and a container of plain yogurt and voila! Fat-free indulgence at its finest.
Fat-free, you say...What's so indulgent about that?
Think of it this way; you could be eating Great Aunt Ida's upside-down fruit loaf surprise instead.
No Pudge Fudge Brownie Mix is available online at nopudge.com. Click here for a listing of stores in the US & Canada.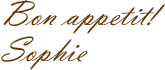 To change your email preferences or unsubscribe, click here.
all content copyright scoop du jour 2005