A Moment on the Lips...
December 7, 2004
To Do List:
1. Wake up & brush teeth.
2. Have heartfelt "e-chat" with AlwyzABridzMd74 (a.k.a. Your Best Friend) over recent broken engagement.
3. Duke it out in down and dirty bidding war with ULuz812 over season's must-have boot.
4. Concede gracefully.
5. End laptop affair with ComitmntPhob.
6. Contemplate what went wrong over breakfast.
7. Catch 9 a.m. train.
We've gotten so used to our virtual lifestyles that it's no surprise our food has begun to follow suit.
From no sugar sweeteners to non-dairy milk, the food industry is slowly becoming one giant oxymoron.
Which is why we don't feel even the slightest bit foolish about introducing you to the newest kid on the block, Hollywood Dessert Spray.
Just one serving will have you enjoying forkfuls of chocolate, strawberry, even wedding cake without ever lifting a fork.
With nary a calorie or fat gram to its credit, Hollywood Dessert Spray provides all of the taste and none of the fun...er, guilt.
Hey, if only everything in life was this upfront.
Hollywood Dessert Sprays are available online at dessertsprays.com.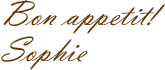 P.S. We're all about subscriber love these days...'tis the season after all. Send us an email with your name and mailing address and enter to win a $50 gift certificate from Weezies.com. 3 winners will be drawn at random and announced in this Thursday's Scoop.



To change your email preferences or unsubscribe, click here.
all content copyright scoop du jour 2005