Jeaneology 101
November 23, 2004
Remember back in the day (1988 to be exact) when an accidental bleaching incident coupled with your favorite pair of Levi's was considered D-I-Y fashion?
When a little fancy scissorwork and a few minutes in the dryer produced some serious suburban couture?
Boy how times have changed.
Nowadays rather than risk a possible acid wash not to mention acid burn, you can simply buy your way into fashion designer status.
J.Crew has just launched their Personalize-it Patch Kit which includes all of the essentials for true clothing customization. Well-equipped with a colorful selection of patches, ribbons and embroidery thread, the kit also offers up five easy-to-follow design ideas as well as tips for achieving the denim look du jour.
Now we know what you're thinking...I actually have to pay for creative license?
We're 'frayed sew.
The Limited Edition Personalize-it Patch Kit is available at jcrew.com.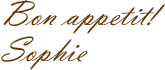 To change your email preferences or unsubscribe, click here.
all content copyright scoop du jour 2005