The Name Game
November 11, 2004
We admit we may have a tendency to wear our heart on our sleeve. At the rate we're going it's sure to become a permanent accessory by spring.
We've recently found an equally subtle yet decidedly more fashionable place to wear our heart this season thanks to Stacey Blume. Under her nearly eponymous label BlumeGirl, she has just introduced a long sleeve thermal tee that's sure to lend a personal touch to any ensemble vis-ŗ-vis a made-to-order embroidered patch.
Good-girl-gone-bad Britney was recently spied with new hubby Kevin's moniker in tow. Other celebs who've been bitten by the BlumeGirl bug include Jennifer Aniston (Brad), Jessica Simpson (Nick) & Paris Hilton, whose personalized tank boasts her own name, surprise surprise.
Unattached? Thatís no reason to miss out on the trend. Any name will do. Come to think of it, Paris may be onto something.
Take note dear readers, that's not something you'll hear us say often.
BlumeGirl personalized thermals are available at blumegirl.com. Enter SCOOP upon checkout to receive 10% off your purchase.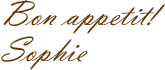 P.S. Scoop du Jour thinks it's high time we honor you, our readers. Send us an email with your name and mailing address and enter to win a Belleza Box from Principessa Beauty (valued at $41). 4 winners will be drawn at random and announced in next Thursday's Scoop.




To change your email preferences or unsubscribe, click here.
all content copyright scoop du jour 2005