As a Baby's Bottom
November 9, 2004
Some things in life can unarguably be deemed necessities. You know, the basics...
Food, water, TiVo.
Only kidding.
Other things are a little harder to justify. Diamonds, private yoga instructors and Egyptian cotton, to name a few. We'd (reluctantly) call those luxuries.
Sometimes however our two worlds collide and we're left in limbo, credit card in one hand, conscience in the other.
Take our skivvies for example. Generations of mothers have cautioned their daughters never to set foot outside their boudoirs without 'em.
But did mom ever say anything about cashmere? We just can't seem to remember and therein lies the quandary.
Nude Sleepwear's low-rise cashmere briefs are just practical enough to don on a cold winter's day and yet sexy enough to bust out at just the right moment if you know what we mean. (Insert wink here.)
Available in black, pink or red, they're fabulous alone or paired with one of Nude's coordinating camis.
It's like we've always said, mother really does know best.
Nude Sleepwear cashmere briefs are available at girlshop.com.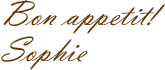 P.S. Another year, another birthday spent in relative obscurity. How about giving the gift of Scoop? Send a personal birthday email to your nearest and dearest (and several thousand SDJ readers) and we'll even spring for a special birthday gift. Email us at birthdays@scoopdujour.com to find out how.



To change your email preferences or unsubscribe, click here.
all content copyright scoop du jour 2005