Woman's Workout World
November 4, 2004
No one ever said working out was fun.
First off, there's that whole sweat thing.
Then you have the get up off the couch and actually do something thing.
And how can we possibly ignore the pain thing?
All of which probably help to explain the wonderful new things that have recently taken up residence on our body.
With the help of Maya, our new personal trainer we're hoping for a sudden boost in our energy and our bums. Yourself!Fitness, a new interactive workout currently exclusive to Xbox combines all the tools necessary to get in shape like 500 different exercise routines and customized meal plans based on your personal caloric requirements.
Feeling a little stressed? Strike a warrior pose in the meditation garden. Zen not your thing? Not to worry, Maya's flexible. (We couldn't resist) With six different locales incorporating Pilates, yoga and strength training to name a few, there's definitely something for everyone.
Well, almost everyone.
We're still waiting for Maya to suggest a little naptime on our couch, but hey, it's her world, we just sweat in it.
Yourself!Fitness Interactive Personal Trainer is available at yourselffitness.com for $34.99.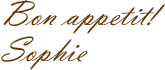 P.S. Another year, another birthday spent in relative obscurity. How about giving the gift of Scoop? Send a personal birthday email to your nearest and dearest (and several thousand SDJ readers) and we'll even spring for a special birthday gift. Email us at birthdays@scoopdujour.com to find out how.



To change your email preferences or unsubscribe, click here.
all content copyright scoop du jour 2005