Diaper Dude-y
August 24, 2004
Isn't it funny how that sweaty guy in cutoff cargo shorts is instantly transformed into the most sensitive man on earth the second we spy him with stroller in tow?
That is, unless the big bag slung across his shoulder is pink and purple with pictures of baby bottles on it. Then we'd probably just assume he was the nanny.
Thanks to the manly men at Diaper Dude, there's no longer any shame in being a dad who changes diapers…in public.
Diaper Dude's nylon messenger bags come in several different styles including camouflage and plain (yet hardly boring) black.
Complete with cushiony changing pad, removable cell phone holder and 10 hold-everything compartments, they've even left room for those monthly Maxim & FHM subscriptions.
We wouldn't want anyone to think there was nothing more to Dad than Dr. Spock.
Diaper Dude is available at DiaperDude.com. Prices range from $52-$98.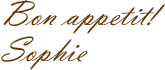 To change your email preferences or unsubscribe, click here.
all content copyright scoop du jour 2005