Photo Finish
August 17, 2004
Rumor has it absence makes the heart grow fonder.
Or is that out of sight, out of mind?
Ugh, who knows what to believe these days?
Amid the confusion we thought it best to err on the side of caution and keep our loved ones close to our heart…as in three inches up and one inch to the right.
Thanks to Love Around the Neck we're able to do just that. A company that specializes in turning black & white or color photos into wearable works of art, their signature necklaces have graced quite a few famous décolletage, from Rebecca Romijn to Kate Capshaw.
Combining semi-precious stones like garnet and carnelian with sterling silver and Czech crystal pendants, they really take the work out of having to accost complete strangers on the bus with snapshots of your favorite family members.
And yes we suppose that does include your cat if you must, although we don't suggest showing off Tabby in all her glory on your next blind date.
Trust us.
Love Around the Neck jewelry is available at lovearoundtheneck.com. Mention Scoop du Jour upon checkout and receive 15% off your next purchase.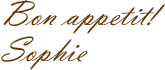 To change your email preferences or unsubscribe, click here.
all content copyright scoop du jour 2005