What's the 9-1-1?
August 10, 2004
Rarely is a white wedding devoid of a stain or two, be it in the form of a dark cloud or a chocolate frosting memento.
While certain things are clearly in Mother Nature's court, others are best left to Mother Weiss…Mindy Weiss that is, the mother of all weddings.
The orchestrator of such last-name-optional couplings as Nick & Jessica, Trista & Ryan and Gwen & Gavin, Weiss has likely seen it all in her fifteen years in the 'I do' biz. Now thanks to her Wedding Emergency Kit one bride's drama is another bride's calm-a. (We couldn't resist.)
Stocked with all the goodies a bride could ever need in the midst of a sticky situation from Hollywood Fashion Tape to Superglue, the Wedding Emergency Kit falls right in line with something old & something new.
There's even a pack of wipes to get rid of something blue…
Ain't love grand?
The Wedding Emergency Kit is available at MindyWeiss.com for $55.00.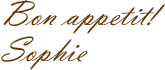 To change your email preferences or unsubscribe, click here.
all content copyright scoop du jour 2005