The Skinny on Scoop du Jour
August 5, 2004
We're always going on about this and that, be it a new handbag designer or our favorite set of dishes. (Boy, do we like to hear ourselves talk...)
While the candles are still flickering on our two-month anniversary cake we feel that now's the time to give you the scoop on us.
Some of you have been wondering how we benefit from dishing out the Scoop du Jour. You may be surprised to learn that the main element we gain is the pride in knowing that you value our opinion enough to actually go out and buy the products we recommend and then promptly report back with the good, the bad and the ugly.
To be clear, we never profit from the sale of any of the products we feature. Simply put, we write about the things we love and believe in and only hope that once you try 'em you will too.
But don't misunderstand us…a girl's gotta eat.
So in case you haven't noticed, from time to time we display banner advertisements in the upper right hand corner of our newsletter. The purpose of these banners is to generate revenue as well as alert you to products & services that we feel you should know about.
In addition, we feature scoop-worthy websites and added promotions in the PS section of the newsletter. Oftentimes these links are paid for, but ultimately they're just another way for us to dish it out.
Last but not least is the whipped cream to our banana split, the cherry atop our sundae...the sponsored newsletters. Although these look much like the scoops you've come to know, sponsored newsletters are only served up on Mondays, Wednesdays & Fridays. We've saved Tuesdays & Thursdays strictly for editorial.
However, regardless of whether or not we receive payment for a particular scoop, everything we cover must adhere to our laundry list of standards to ensure that we use only the freshest of ingredients at all times.
Oh, who exactly is Sophie you ask? Take a gander at her bio and find out for yourself…
She's quite a character.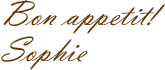 P.S. Spread the love...bag some loot! Send us your friends & enter to win a Cherry Tee. The more friends you send, the more chances you'll have to win. 5 winners will be drawn at random and announced in next Tuesday's Scoop. Each friend you send must confirm his/her subscription in order to be valid. Existing SDJ subscribers will not be counted.




To change your email preferences or unsubscribe, click here.
all content copyright scoop du jour 2005