It's in the Bag
August 3, 2004
"So many bags, so little time."
Or is it, "So much crap, so few bags we'd actually spend the money on to hold it all?"
Thanks to Parson's grad and Tommy Hilfiger alum Soo Ping Ngai, we can actually carry our crap and look good doing it too. With a new line of nylon and leather handbags that look as unique as they sound, Gnipoos (Soo Ping spelled backwards) are sure to satiate many a fashion craving.
From the Deirdre, a studded, metallic-trimmed duffel perfect for the gym to the Zoey bag, a little leather and chain number, all of Soo Ping's bags are lined in a yummy turquoise (save the duffels which are unlined to fold up for easy travel) and promise not to break the bank.
But first you've got to find your credit card in all that mess.
Gnipoos handbags are available at Gnipoos.com. Scoop du Jour readers will receive 25% off all styles upon checkout thru September 15th.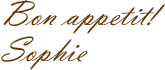 P.S. Spread the love...bag some loot! Send us your friends & enter to win a Cherry Tee. The more friends you send, the more chances you'll have to win. 5 winners will be drawn at random and announced in next Tuesday's Scoop. Each friend you send must confirm his/her subscription in order to be valid. Existing SDJ subscribers will not be counted.



To change your email preferences or unsubscribe, click here.
all content copyright scoop du jour 2005