Speaker of the House
July 27, 2004
Let's face it, I pod, you pod…chances are we'll all be podding before year's end.
Anything with its own line of accessories is likely here to stay. Take Barbie for example: sports cars, mansions, Ken.
Need we say more?
It was only a matter of time before the iPod followed suit.
The Altec Lansing inMotion portable audio system is an iPodder's equivalent of the Barbie Dream House (the one with the elevator, of course). Designed with the musical extrovert in mind, these sleek speaks fold up for the ultimate in traveling companionship. 4 AAs buys you about 24 hours of true auditory pleasure.
Delightfully petite at 8 x 1.2 in., don't just assume something this small can't rock.
Some things are actually made to translate into real life.
The inMotion speaker system is available at Flight001.com for $149.95.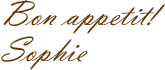 P.S. Mary, Mary, quite contrary, how does your garden grow? If you're too busy to tend to the weeds just for the sake of adorning yourself with flora from head to lapel, check out InFullBloomDesigns.com, a virtual treasure trove of silk and latex flowers in a multitude of sizes, colors & styles.



To change your email preferences or unsubscribe, click here.
all content copyright scoop du jour 2005