She's With the Band
June 29, 2004
Have you ever had one of those virtual mannequin moments where you put together the perfect ensemble and it fit just so?
It wasn't until you actually voyaged into the recesses of your closet that you realized the whole damn thing was far too good to be true. In reality, even your shoes were tight.
Imagine how the newly bump-blessed must feel. One minute they're zipping up in five seconds flat and the next thing they know they're downing enough Saltines to render Atkins obsolete and breaking a host of perfectly manicured nails in an attempt to fit into their fat jeans.
And they thought labor was going to be tough…
With the help of the Bella Band, broken nails (and zippers) are guaranteed to become a thing of the past. A seamless band of nylon and spandex that allows unfastened pants to remain yet another hidden secret beneath the belt, the Bella Band promises to smooth out a less-than-perfect bulge while also increasing the options for those mums-to-be in wardrobe limbo.
Available in seven summer colors including aqua, latte & grass, they happen to look more like a layered tank than a crafty way to buy a little more time in those Hudsons before giving in to nine months of muumuu madness.
Hmmm…come to think of it, there's no reason the non-preggers set couldn't give 'em a whirl.
That virtual mannequin seems to get more virtual everyday.
To place online orders send an email to sales@ingridandisabel.com specifying color, quantity & shipping address. For store locations visit BellaBand.com.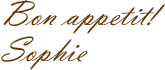 P.S. They say absence makes the heart grow fonder. (We hope it's true.) Scoop du Jour has gone fishin' but we promise to be back with even tastier scoops on Thursday, July 22nd. Stay tuned...



To change your email preferences or unsubscribe, click here.
all content copyright scoop du jour 2005