Flavor of the Week
June 18, 2004
No-Bake Key Lime Cheesecake
Courtesy of George Stella
Prep Time: 20 minutes
Yield: 12 servings
Ingredients:
1 T wheat germ
2 C + 1 T sugar or sugar substitute (i.e. Splenda)
16 oz. real cream cheese, room temperature
1 C sour cream
1 C whole milk ricotta cheese
3/4 C key lime juice (fresh or bottled)
2 T vanilla extract
1/4 C hot water
2 limes, zested & divided
3 envelopes unflavored gelatin
3/4 C boiling water
Method:
Sprinkle wheat germ and 1 T of sugar over the bottom of a 10" deep pie tin or cake pan to create a "faux" crust.

Using an electric mixer, blend cream cheese, sour cream, ricotta cheese, lime juice, 2 C sugar, vanilla extract, 1/4 C hot water & the zest of 1 lime on medium speed until well combined.

Thoroughly dissolve all 3 envelopes of gelatin in 3/4 C boiling water. (It's important that the water be boiling hot and that you mix the gelatin powder quickly so it doesn't set.) With the mixer set on high, blend gelatin into cheesecake mixture. Immediately pour into prepared pie pan and sprinkle with zest of remaining lime. Chill in refrigerator for 3 to 4 hours or until firm. Serve.
Hint:
Put any leftover cheesecake mixture in a pastry bag or heavy-duty plastic bag with the corner cut off and place in the freezer for 7 to 10 minutes until it has a whipped cream consistency. Use to decorate the top of the cheesecake.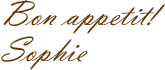 P.S. Have a recipe to share? The sweeter the better. Send us your favorites and if we use them in a scoop, we'll give you credit!



To change your email preferences or unsubscribe, click here.
all content copyright scoop du jour 2005