Bowled Statements
June 17, 2004
There's just something so…restrictive about dieting.
As if it wasn't enough that we can't even indulge in but a teaspoon of sugar (where's that darn Mary Poppins when you need her?), now we actually have to measure our tofu intake? C'mon, this is for the birds.
Literally.
One thing that has made the meals pass a bit more quickly (17 days, 2 hours, 12 minutes and 47 seconds to go…) are the nifty little bowls we've been dining from.
Introducing Mesu, a colorful set of six nesting dishes that not only make eating fun (if soy nuts are your idea of fun) but also provide an easy way to measure out exact portions.
With different colors and symbols signifying each measurement from a half cup all the way to a two cup serving, Mesu is a whimsical way to get in on the latest diet craze without having to feel all diet-y in the process.
Plus, they're a great alternative to having to listen to your significant other remind you for the umpteenth time that you've already had your daily allowance of barley.
Paging Miss Poppins…

Mesu is offering Scoop du Jour readers free shipping thru June 30th when you enter SCOOP in the "comments" section of the checkout page. Mesu is available at Mesu.us for $49.95.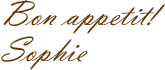 To change your email preferences or unsubscribe, click here.
all content copyright scoop du jour 2005