Ladies and Germs
June 15, 2004
There's nothing quite as appetite suppressing as peering into the bottom of a pedicure tub and spying the clipped remnants of the pedicurees who've gone before you.
Oh wait, here's one…How about wobbling out of the salon with those little Styrofoam thingies wedged in between your toes having just inherited staphylococcus from the dirty little specimen with whom you unknowingly shared cuticle cutters five minutes prior.
Just another day at the spa, huh ladies?
Thanks to the girls at CutieKit, the only athlete's feet you'll be walking around with from now on are the ones attached to your ankles that enable you to run on the treadmill.
Chock full of all the professional tools needed for a fungus-free mani-pedi, CutieKit provides a sanitary alternative to communal implement sharing, a practice that rarely bodes well for the sharer.
A staple in the arsenals of such beauty doyennes as Julia Roberts, Kate Hudson and recent convert Paula Abdul, who, after almost losing her thumb to a manicure gone wrong purchased several kits to take on salon visits, CutieKit isn't just another stepping stone to looking good, it's the one stone that will allow you to take another step...
With both feet.
CutieKit is available at Cutiekit.com for $34.99.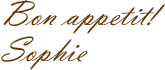 P.S. Speaking of must-have tools...Before you unveil those fabulous new minis for the season, be sure to check out the new Venus Divine Razor at Drugstore.com.



To change your email preferences or unsubscribe, click here.
all content copyright scoop du jour 2005