American Idols
June 10, 2004
In a world filled with drive-through pharmacies and 28-second suntans why should spirituality be any harder to come by these days?
Thanks to Possession Protectors, a new line of "spiritual jewelry," it's as easy as pie.
Or is that chai?
Touted as your very own spirit-guide-to-go, Possession Protectors are colorful porcelain symbols that attach to your handbag, belt loop or just about anywhere you deem worthy of good karma.
With 15 different pieces to choose from including Buddha, the Embodiment of Consciousness and Isis, the Goddess of Magic, you just might be prompted to start a collection.
Created in part by PsychicGirl to the stars Justine Kenzer, a spiritual staple in Hollywood, (a town that wrote the book on quick fixes) Possession Protectors are one of the cheapest insurance policies I've ever come across.
Think about it, you get to strut your stuff all over town and there's a pretty good chance you won't get mugged as you stumble home at 2 a.m.
Trust me, your Birkin Bag will thank you. So will your Brahma Vidya...whatever that is.
Possession Protectors are available on PsychicGirl.com for $30.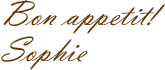 P.S. Unleash your inner beauty...Check out the Summer Survival Guide at Beauty.com and enjoy free standard shipping when you spend $25 or more. Offer ends 7/31.



To change your email preferences or unsubscribe, click here.
all content copyright scoop du jour 2005