Flavor of the Week
June 4, 2004
Grandma's Gooey Fudge Pie
a.k.a. "The surefire way to a man's heart..."
Ingredients:
1 stick of butter or margarine
2 squares unsweetened chocolate
2 eggs
1 C sugar
1/4 C flour
1/2 t vanilla
Method:
Preheat oven to 325. Melt butter and chocolate in a small pot. In a separate bowl, combine eggs, sugar & flour and add chocolate mixture. Add vanilla. Bake in a greased pie tin for 30 minutes or until pie is cooked in the middle. Let cool and serve with hot fudge and a scoop of vanilla ice cream.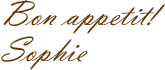 P.S. Have a recipe to share? The sweeter the better!



To change your email preferences or unsubscribe, click here.
all content copyright scoop du jour 2005