Just Bead It
June 3, 2004
When it comes to explaining fashion in the eighties, not even the most skilled sociologists are able to deduce why we wore what we wore.
Okay, perhaps fashion is too generous a word to describe t-shirts that would have fit circus animals, florescent jump suits adorned with zippers that led nowhere, and my personal favorite…the old boxer shorts over the pants trick. (I like to believe I'm not the only one who indulged in that little gem of a statement.)
The one trend from that decade which doesn't instantly make me wish I had the power to destroy every single Polaroid taken of me from 1985 to 1989 was the innocent (and not so easily photographed) act of fastening safety pins to my shoelaces. Adorned with beads in every color of the rainbow, those pins served as friendship tokens, arts and crafts projects and a damn good way to take the attention off my bright orange Converse high tops.
While I tend to cringe each time a magazine declares that the eighties are back, I'm happy to announce that someone has finally found a way to do it tastefully. Monji, a California-based accessory line has come up with a watch made entirely from Japanese glass beads, safety pins and elastic. Available in 15 different color schemes, they're both fun and functional; a bracelet and timepiece rolled into one.
The best part? I don't break out in a sweat every time someone tells me to say "cheese."
Monji Watches are available online at ShopStyleCouncil.com for $95. Items ship in 2 weeks; shipping is free.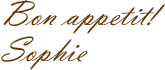 P.S. The hillary erin Military Tote is back for one last tour of duty! For every $100 you spend on hillaryerin.com you will receive a FREE monogrammed Military Tote valued at $75. Offer applies to online orders while supplies last.




To change your email preferences or unsubscribe, click here.
all content copyright scoop du jour 2005