Chic & Cheap
June 1, 2004
Nothing gets a girl going in the boudoir quite like a fabulous set of sheets.
Okay dirtybirds, perhaps you can think of a few things...
But as soon as she realizes that she's just managed to dress her bed for less than it cost to dress her dog she'll begin to experience a distinct tingling sensation in places she never even knew existed.
For starters, her savings account.
Simply Shabby Chic, the latest venture from flea market findstress Rachel Ashwell and Target, the not-so-shabby discount chain, offers an elegant array of mix and match linens and accessories for every room in the house. From throw pillows in all shapes and sizes to slipcovers and embroidered shower curtains in just the right shade of beachfront blue, you'll swear you paid full retail.
But alas, you won't find a single piece over $130.
We happen to love the bedding collection made up of a bevy of floral and striped patterns all rolled into a 250-thread count. Not that anyone really expects you to be counting threads in the bedroom.
You'll be far too occupied counting other things from now on…
Like your interest.
Simply Shabby Chic is available exclusively at Target stores and online at Target.com.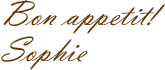 P.S. Now that you've turned up the heat indoors, enjoy free shipping on select outdoor items at Target that are sure to keep you cool all summer long.



To change your email preferences or unsubscribe, click here.
all content copyright scoop du jour 2005